Beauty Services
A combination of traditional beauty treatments and the leading edge technology is offered by our highly trained staff.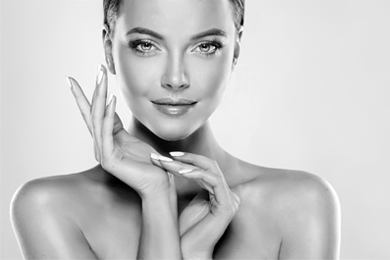 Advanced Skin Treatments
Our clinic offers a variety of skin treatments, which include the following:
Lamprobe treatment – a non-invasive cosmetic procedure that uses a small medical instrument (i.e. probe-like needle) to quickly and efficiently treat skin conditions (i.e. skin tags, cholesterol deposits, age spots, clogged pores, benign moles, fibromas, keratosis, milia/whiteheads, vascular legions, subcutaneous cysts and cherry angiomas)
Microcurrent treatment – a non-invasive cosmetic procedure that is used for facial contouring, toning and firming of ageing skin. Microcurrent is a low-level current that mimics the body's natural current
Ultrasound (facial treatment) – used to penetrate deep below the surface of the skin promoting cellular renewal and repair, increasing blood circulation, encouraging lymphatic drainage, combating puffiness and swelling and improving skin care product penetration
LLT (low lever laser therapy) – a non-invasive treatment with a laser is used to treat the following conditions and ailments: acne, rosacea, skin inflammation, eczema and cold sores
Laser Biorevitalisation – a non-invasive and pain-free treatment that uses a laser beam to penetrate to 4 mm deep into the dermis, delivering essential skin nutrients (hylauronic acid). The treatment benefits include the following: deep skin hydration, improved skin tone, increased elastin and collagen production
Chemical peels – a technique used to improve the appearance of the skin on the face. A chemical solution is applied to the skin that causes it to exfoliate and eventually peel off. The new, regenerated skin is usually smoother and less wrinkled than the old skin.
Facial vacuum massage – a non-invasive massage technique performed with a mechanical device that lifts the skin by means of suction, creates a skin fold and mobilises that skin fold. Originally created to treat burns and scars, the treatment can be beneficial for patients with healthy skin. Such benefits include improved circulation, cellulite reduction and skin rejuvenation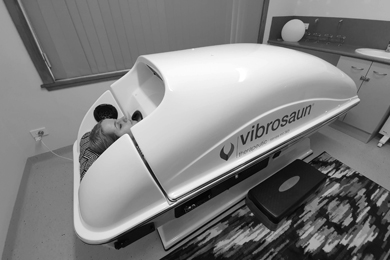 Vibrosaun
The Vibrosaun combines sauna and vibration in a reclining position and simulates the effect of a dry sauna and a massage at the same time. Vibrosaun machine benefits include relief of arthritis conditions, detox, cleansing and weight loss, a decrease in joint stiffness and back pain treatment. It has also been shown to improve the quality of sleep.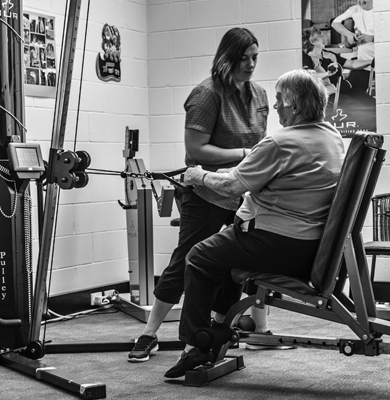 Power Assisted Exercise Machines
We use power assisted exercise machines supplied by Shapemaster. Shapemaster power assisted exercise offers a positive and accessible option for a broad range of conditions. Unlike conventional equipment, Shapemaster does not rely exclusively on muscle power but by an electronic power system enabling users to work passively or actively, depending on their ability. As the user does not have to provide the motive force, they do not have to overcome inertia in order to use the equipment. Shapemaster equipment can be used by almost anyone regardless of age or disability. A large growing number of individuals are using Shapemaster to manage long term conditions such as stroke, parkinson's disease, fibromyalgia, multiple sclerosis, cerebral palsy, cardiac conditions, respiratory conditions (asthma & COPD), dementia, balance and co-ordination problems, brain and spinal injury, arthritis and post-operative rehabilitation.
Shapemaster provides safe exercise to all the major muscle groups and:
Encourages reciprocal, symmetrical and bilateral movement which can be adapted to individual needs
Help re-train muscle patterns, whilst at the same time stimulating the muscles for improved circulation
Improves mobility, aerobic fitness, increases strength and enhances self- efficacy.
Other benefits include improved cardiovascular fitness, increased flexibility & circulation, reduction in mental health problems such as depression, stress and anxiety, improved balance & co-ordination and social interaction.
Because Shapemaster users benefit from exercising all major muscle groups in short bursts of time, many patient groups are benefiting from a full body workout in just 30 minutes!
Source: Shapemaster.co.uk